Answer
The prophylactic use of antibiotics is indicated, depending on mechanism and extent of injury, such as for crush injuries and human bites or animal bites. Many clinicians prescribe a first-generation cephalosporin when bone or joint is exposed below a nailbed injury.
Small (less than 25% of the nailbed) and painless subungual hematomas require no intervention, as the hematoma will eventually reabsorb. If the subungual hematoma covers more than 25% of the nailbed or is causing pain, the patient should be offered evacuation via trephination or nail removal (see Hand, Subungual Hematoma Drainage).
Lacerations to the nailbed should be repaired using 6-0 or smaller absorbable sutures. Minimal to no debridement should be performed because aggressive debridement may cause undue tension on the repair and results in scarring.
When repairing avulsed nails and nailbeds, if the nail is detached proximally, it must be removed to inspect for any damage to the nailbed.
See the treatment images below.

Trephination of a subungual hematoma.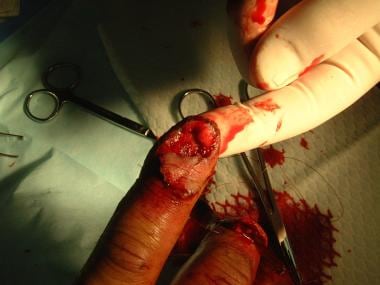 Nailbed repair.
Crush and avulsion injuries, as well as injuries associated with distal phalanx fractures, have a worse prognosis.
See 15 Fingernail Abnormalities: Nail the Diagnosis, a Critical Images slideshow, to help identify conditions associated with various nail abnormalities.
---
Did this answer your question?
Additional feedback? (Optional)
Thank you for your feedback!