Answer
Answer
The infraorbital nerve block is often used to accomplish regional anesthesia of the face. The procedure offers several advantages over local tissue infiltration. A nerve block often achieves anesthesia with a smaller amount of medication than is required for local infiltration. In addition, unlike local tissue infiltration, nerve blocks can provide anesthesia without causing tissue distortion. Therefore, the infraorbital nerve block is a convenient alternative for situations such as facial lacerations in which tissue distortion would be unacceptable.
In general, regional anesthesia is ideal when the area of interest is innervated by a single superficial nerve. The infraorbital nerve supplies sensory innervation to the lower eyelid, the side of the nose, and the upper lip (see image below). Since the infraorbital nerve provides a considerably large area of sensory innervation, it is a prime candidate for a regional nerve block. [1] A successful infraorbital nerve block provides anesthesia for the area between the lower eyelid and the upper lip.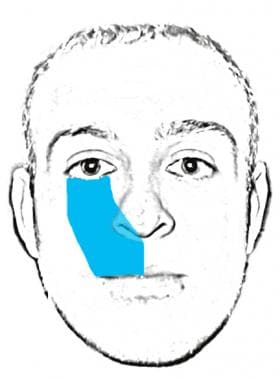 Area of anesthesia for infraorbital nerve block.
---
Did this answer your question?
Additional feedback? (Optional)
Thank you for your feedback!