Answer
Immobilize nondisplaced fractures and have the patient remain nonweightbearing.
Obtain an orthopedic consultation for displaced (depressed) fractures, which require open reduction and internal fixation. Articular depression of greater than 3 mm may be considered for surgery.
In a study of 158 patients with 162 tibial plateau fractures, the overall rate of compartment syndrome was 11%. Tibial widening and femoral displacement were found to be significant associated factors. [26]
See the images of tibial plateau fractures below.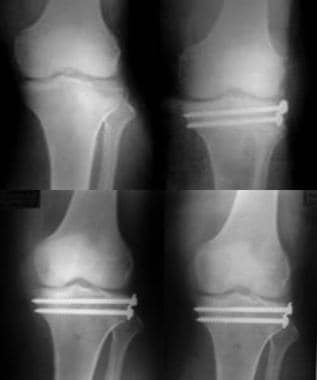 Type II tibial plateau fracture in a young active adult with good bone stock treated with percutaneous elevation and cannulated cancellous screw fixation without bone grafting.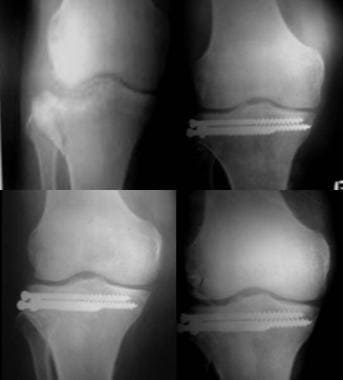 Type III tibial plateau fracture with central depression in an elderly person treated surgically using percutaneous elevation, bone grafting, and cancellous screw fixation.
---
Did this answer your question?
Additional feedback? (Optional)
Thank you for your feedback!