Answer
Computed tomography is indicated for severely injured patients if unable to get diagnostically sufficient radiographs of the knee. [18, 19]
In patients with tibial plateau fractures and tibial plafond fractures, computed tomography can help further evaluate the extent of the fracture. In a study of CT evaluation of characteristics of tibial plateau fractures, diagnostic accuracy of fracture characteristics ranged from 70 to 89% for (1) a posteromedial component, (2) a lateral component, (3) a tibial tubercle component, and (4) a tibial spine (central) component. [20]
See the CT images of tibial plateau fractures below.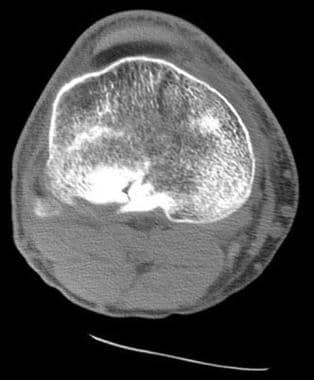 Tibial plateau fractures. CT image through the tibial plateau shows a fracture of the posterior aspect of the lateral tibial plateau, which is the source of the lipohemarthrosis.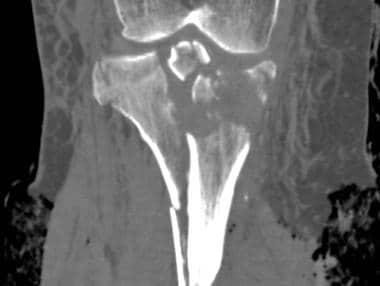 Tibial plateau fractures. Coronal reformatted CT. This image demonstrates a bicondylar fracture of the tibial plateau along with a fracture of the tibial diaphysis, a Schatzker VI fracture. Note the articular incongruity.
In tibial plateau fractures, radiographs may underestimate the degree of articular depression when compared with computed tomography. This is important because articular depression of greater than 3 mm may be considered for surgery.
---
Did this answer your question?
Additional feedback? (Optional)
Thank you for your feedback!