Answer
When examining a patient for a lower leg fracture, one should first examine the patient for edema, ecchymosis, and point tenderness. Gross deformities should be noted and splinted. Perform radiographs of the knee, tibia/fibula, and ankle as indicated. A careful neurovascular assessment should be performed, and an emergent fracture reduction should be performed if neurovascular deficits are present. A careful examination should be performed for open wounds. Open fractures require antibiotics and an emergent orthopedic consultation.
Tetanus vaccination should be updated, and appropriate antibiotics should be given in a timely manner. Some recommend antibiotics within 3 hours of the accident. [1]
In a study of compartment syndrome associated with tibial fracture, the odds of compartment syndrome increased by 1.67 per 10% increase in the ratio of fracture length to tibial length when considering all fractures. Compartment syndrome was most likely to occur with plateau fractures, at 12% (shaft fractures, 3%; pilon fractures, 2%). [6]
See the fracture image below.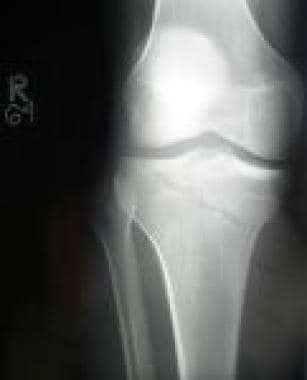 Shown is an intra-articular fracture of the medial condyle of the tibial plateau.
---
Did this answer your question?
Additional feedback? (Optional)
Thank you for your feedback!