Answer
Answer
Hold the LMA like a pen, with the index finger of the dominant hand at the junction of the mask and the tube, as shown below.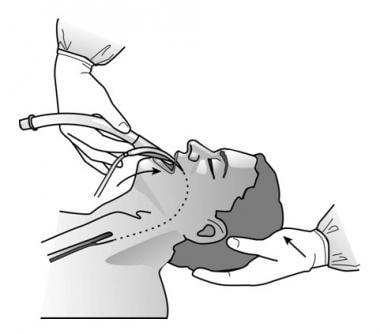 Insertion of the LMA.
Slide the LMA along the hard palate, pushing it back against the palate as it is advanced toward the hypopharynx, as in the image below. This prevents the tip from folding over on itself and reduces interference from the tongue.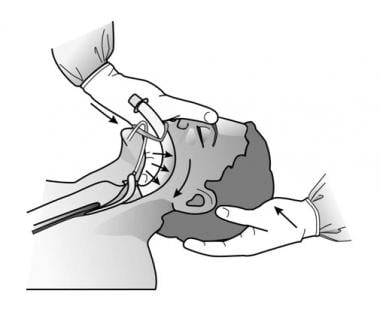 Insertion of the LMA.
Advance with gentle pressure until resistance is met.
If necessary, continue pressure on the tube with the nondominant hand to fully advance the LMA to its proper position.
Once in place, inflate the cuff without holding the LMA to allow it to acquire its natural position.
Approximately 8 cm of the tube protrudes from the patient's mouth.
The video below depicts LMA insertion.
Video demonstration, insertion of the LMA.
---
Did this answer your question?
Additional feedback? (Optional)
Thank you for your feedback!