Answer
Calcaneal fractures usually occur in patients aged 30-50 years, with a peak incidence at 45 years. They occur in males 5 times more often than in females. They are most commonly caused by motor vehicle crashes or falls from a height. [35, 36, 37, 38]
When caused by falls from a height, these fractures have a high rate of associated injuries. Identification of a calcaneal fracture should prompt a search for other related findings. Calcaneal fractures are part of the "lover's triad" (named for the constellation of injuries that may occur when jumping out of a second-story bedroom window), with lumbar compression fractures and forearm fractures. Ankle, femur, and elbow fractures are also common. [39] A high index of suspicion for thoracic aortic rupture and renal vascular pedicle disruption must be maintained when calcaneal fractures are seen.
Intra-articular joint depression fracture is the most common form of calcaneal fracture. Lateral foot radiograph reveals a reduction in the Böehler's angle, the posterior angle formed by intersection of a line from the posterior to the middle facet and a line from the anterior to the middle facet (see images below). Böehler's angle is normally between 20 and 40°. Angles less than 20°, or more than 5° smaller than that of uninjured side, indicate a fracture. Although often useful, the sensitivity of Böehler's angle has been shown to be less than that of physician gestalt in interpreting calcaneal films. [40] Obtain an urgent orthopedic consultation for calcaneal fractures, since open reduction and internal fixation is usually necessary.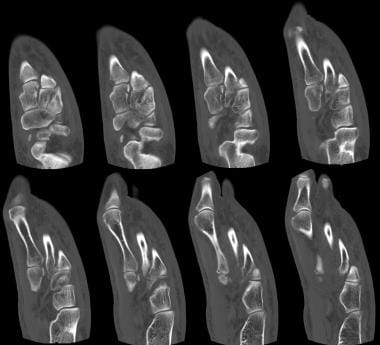 Fractures, foot. CT scan showing fracture of first cuneiform and proximal first metatarsal.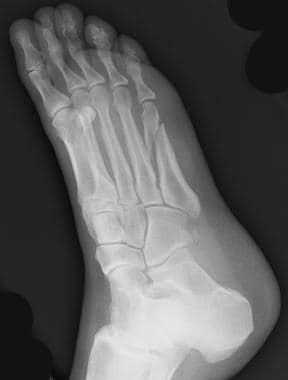 Fractures, foot. Spiral fracture of the shaft of the fifth metatarsal. This fracture was treated conservatively with immobilization.
Extra-articular calcaneal fractures should be treated with a bulky compression dressing, rest, ice, and elevation. Arrange orthopedic follow-up care.
Open calcaneus fractures are severe, high-energy injuries that have the potential for considerable morbidity, especially considering the high rate of concomitant orthopedic and whole body system injuries. Patients with type III open injuries are at increased risk of amputation. Management of these injuries include intravenous antibiotics, tetanus prophylaxis, and urgent debridement and irrigation. [41]
---
Did this answer your question?
Additional feedback? (Optional)
Thank you for your feedback!