Answer
Talar fracture is the second most common fracture of the tarsal bones. Blood supply is somewhat tenuous, resulting in a high incidence of avascular necrosis following displaced fractures. According to Dale et al, talar fracture patterns cannot be characterized by radiography alone, and CT is critical for detecting and characterizing talar fractures. [32]
Neck and body fracture are the most common talar fractures and may be associated with subtalar dislocation. [33] Displaced fractures usually require surgical fixation. Nondisplaced fractures are treated with non–weight-bearing short leg cast for 6-10 weeks.
Lateral process fracture was previously rare, yet now is more common because of snowboarding injuries. Treatment should include immobilization with strict avoidance of weight bearing.
Posterior process (Shepherd) fracture is aused by damage to the posterior process of the talus, this fracture's usual mechanism is sudden plantarflexion or repetitive motion, especially in athletes who dance or kick. Diagnosis usually is not confirmed in the ED, because clinical examination is typically nonspecific and plain film radiography normal. Suspicion warrants referral to an orthopedist. Treatment includes immobilization with either partial or full weight bearing. Note that this fracture often is confused with an accessory bone that occurs at this location, the os trigonum.
Transchondral/osteochondral talar dome fracture is a rare injury that often presents as a nonhealing ankle sprain and is caused by small cartilaginous avulsions or body chips in tibial articulation. Tenderness of the talar dome can be appreciated with the foot in dorsiflexion. Radiographs may be normal, and injuries cannot be distinguished clinically from ankle sprains. Delayed presentation may show crepitus, joint locking, and laxity of lateral and anterior ankle ligaments. Suspicion warrants referral to an orthopedist for bone scan or other definitive imaging. Initial therapy for this injury is immobilization without weight bearing.
Navicular fractures are rare and most often represent stress fractures in young athletes. They usually heal well with immobilization and weight bearing as tolerated. [34] Displaced fractures through the navicular body have a high incidence of avascular necrosis and require open reduction and internal fixation (see images below).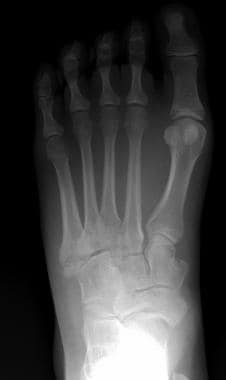 Comminuted navicular fracture in a young drunk driver involved in a motor vehicle crash. The patient sustained no other injuries and was discharged in a plaster splint with strict nonweightbearing. The patient subsequently had a computerized tomography (CT) scan and underwent open reduction and internal fixation 9 days after the injury. A standard anteroposterior (AP) view is shown here.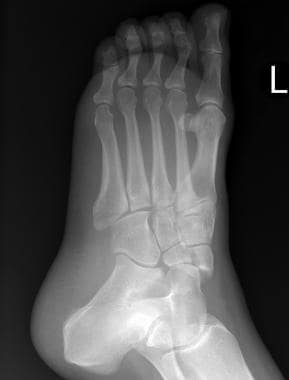 An added oblique view of this same patient with a navicular fracture was performed in the ED to help verify the absence of other significant fractures. Obtaining views that are not part of the routine foot series can be helpful and should be added when needed.
---
Did this answer your question?
Additional feedback? (Optional)
Thank you for your feedback!