Answer
The Lisfranc joint is found at the base of second metatarsal and is formed by a 6-bone arch that includes the first, second, and third cuneiforms and first, second, and third metatarsals. Fracture-dislocations at this joint are rare, yet are still the most commonly misdiagnosed foot injuries (see images below). It has been estimated that 20% of Lisfranc fracture-dislocations are misdiagnosed. [8] A Lisfranc fracture-dislocation involves injury to the bony and soft tissue structures of the tarsometatarsal joint, and patients typically present to the ED with pain particularly with weight bearing; with swelling; and after a characteristic mechanism of injury such as high-velocity trauma. Stable injuries can be immobilized in the ED and patients discharged home, but unstable injuries require an orthopedic referral for consideration of surgical fixation. [30] They can result in posttraumatic arthritis and reflex sympathetic dystrophy. Displaced fractures are clinically and radiographically obvious, yet nondisplaced or minimally displaced fractures may be subtle. [6]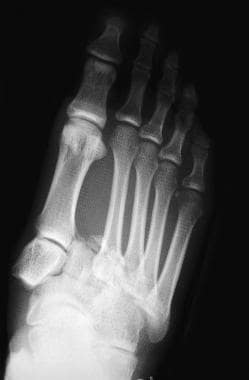 Fractures, foot. Lisfranc fracture-dislocation.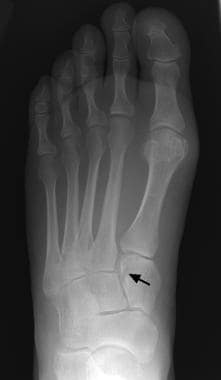 Fractures, foot. Subtle fracture of the first cuneiform at the Lisfranc joint. Another fracture at the base of the first metatarsal is not seen here but was found on subsequent computed tomography.
To facilitate diagnosis, grasp first and second metatarsals and move them alternately through plantarflexion and dorsiflexion.
Radiographic diagnosis is made by detecting widening (diastasis) of 2-5 mm between the bases of the first and second metatarsals or between the middle and medial cuneiforms. Fracture at the base of the second metatarsal strongly suggests the diagnosis. If standard radiographs appear normal despite clinical suspicion, radiographs of the injured foot bearing weight may reveal the fracture. These fractures require immediate orthopedic consultation for reduction and fixation. CT imaging is useful if clinical suspicion is high despite nondiagnostic plain radiography. [31]
---
Did this answer your question?
Additional feedback? (Optional)
Thank you for your feedback!