Answer
This less common but more problematic fracture occurs transversely at the base of the fifth metatarsal, 1.5-3 cm distal to the proximal tuberosity (see image below). Displacement of this fracture tends to increase with continued weight bearing. Forefoot adduction has been found to be a risk factor for Jones fracture, with the presence of metatarsus adductus being associated with a 2.4 times greater risk of Jones fracture, according to one study. [27] Patients with this fracture often (35-50%) develop persistent nonunions requiring bone grafting and internal fixation. [4] Initial therapy must include immobilization without weight bearing. [28] One study suggested that the short controlled ankle movement (CAM) walker boot more effectively offloads the fifth metatarsal during common gait activities than a postoperative sandal or a standard athletic shoe after treatment of Jones fractures and other base of fifth metatarsal fractures. [29]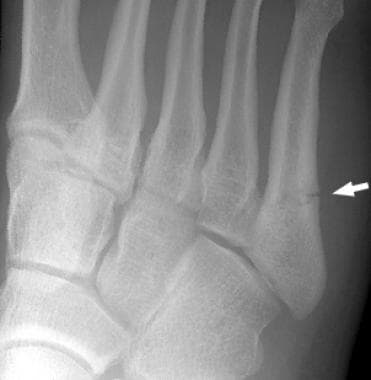 Fractures, foot. Jones fracture of the fifth metatarsal.
---
Did this answer your question?
Additional feedback? (Optional)
Thank you for your feedback!