Answer
Mechanical low back pain is one of the most common patient complaints expressed to emergency physicians in the United States accounting for more than 6 million cases annually. Approximately two thirds of adults are affected by mechanical low back pain at some point in their lives, making it the second most common complaint in ambulatory medicine and the third most expensive disorder in terms of health care dollars spent surpassed only by cancer and heart disease. [1, 2, 45]
The image below illustrates a herniated nucleus pulposus at multiple levels, one of the causes of low back pain.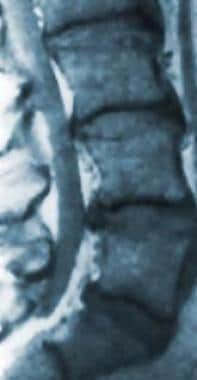 Magnetic resonance image of the lumbar spine. This image demonstrates a herniated nucleus pulposus at multiple levels.
See Back Pain: Find the Cause, Watch for the Comeback, a Critical Images slideshow, to help diagnose and manage this common problem.
Low back pain reportedly occurs at least once in 85% of adults younger than 50 years, and 15-20% of Americans have at least one episode of back pain per year. Of these patients, only 20% can be given a precise pathoanatomic diagnosis. Low back pain affects men and women equally. The onset most frequently occurs in people aged 30-50 years. Low back pain is the most common and most expensive cause of work-related disability in the United States. [3, 2] Smokers appear to have an increased incidence of back pain compared with nonsmokers. Furthermore, the incidence of current smoking and the association with low back pain is higher in adolescents than in adults. [4]
---
Did this answer your question?
Additional feedback? (Optional)
Thank you for your feedback!