Answer
About 85% of adults in the United States drink at least one caffeinated beverage a day, [2] as do 73% of children. [3] Caffeine intake intake in US children and adolescents remained stable from 1999 to 2010, but sources of caffeine changed: the contribution of soda decreased from 62% to 38% while that of coffee increased from 10% to nearly 24% and energy drinks (which did not exist in 1999) increased to nearly 6%. [3] In a 2014 nationally representative cross-sectional survey, nearly nearly two thirds of US adolescents aged 13-17 years reported ever using energy drinks, and 41% had done so in the past 3 months. [4]
A study published by the US Food and Drug Administration (FDA) reported that in 2003-2008, the average adult consumed about 300 mg caffeine/day, with teenagers consuming roughly 100 mg/d. [5] In quantities found in food and beverages, caffeine is unlikely to cause acute medical problems; however, a changing market in which energy drinks are not subject to FDA regulatory standards has raised concerns over caffeine-related health problems.
In 1989, the US Food and Drug Administration (FDA) limited the amount of caffeine in OTC products to a maximum of 200 mg/dose. Caffeine is present in concentrated forms in OTC products such as alertness-promoting medications (eg, NoDoz, Vivarin), menstrual aids (eg, Midol), analgesics (eg, Excedrin, Anacin, BC Powder), and diet aids (eg, Dexatrim). Caffeine is also a component of prescription medications (eg, Fioricet, Cafergot) and herbal preparations.The ingestion of such concentrated sources of caffeine is the general cause of acute caffeine toxicity. See the image below for caffeine equivalents of common products.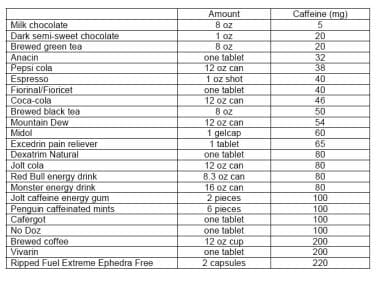 Caffeine content of various foods, beverages, medications, and supplements. Caffeine content is approximate for brewed beverages and chocolate).
---
Did this answer your question?
Additional feedback? (Optional)
Thank you for your feedback!