Answer
The Rumack-Matthew nomogram (the acetaminophen toxicity nomogram or acetaminophen nomogram), is used to interpret serum acetaminophen concentrations in relation to time since ingestion, in order to assess potential hepatotoxicity. It was retrospectively developed, based on observational date from pateints who overdosed on single, acute ingestions of acetaminophen and did not recieve antidote therapy. See the image below.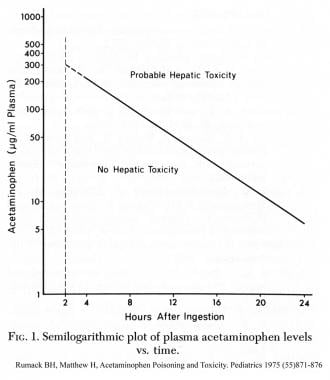 Semilogarithmic plot of plasma acetaminophen levels vs time. From: Rumack BH, Matthew H. Acetaminophen Poisoning and Toxicity. Pediatrics. 1975 (55)871-876.
The nomogram predicts the risk of hepatotoxicity on a single acetaminophen concentraion, measured at one time. It is not a prognostic tool and, hence, does not predict fulminant hepatic failure or death.
The nomogram predicts potential toxicity beginning at 4 hours after ingestion up to 24 hours after ingestion. Acetaminophen concentraions measured earlier than 4 hours post-ingestion may not be reliable. Concentrations measured 4-18 hours post-ingestion are most reliable.
The upper line of the nomogram is the "probable" line, also known as the Rumack-Matthew line. About 60% of patients with values above this line develop hepatotoxicity. The lower line on the nomogram is the "possible" line, which was subsequently added later per request of the U.S. FDA. The possible line, also known as the "treatment" line, incorporates a 25% margin of error in measurement variations or uncertainty regarding the time of ingestion.
---
Did this answer your question?
Additional feedback? (Optional)
Thank you for your feedback!