Answer
Obtain a 12-lead electrocardiogram (ECG) in patients with any of the following:
Chest pain

Hypoxia

Dyspnea

An irregular, rapid, or slow pulse

Altered mental status

Moderate-to-severe toxicity
Of 48 patients admitted to an intensive care unit with cocaine-induced chest pain, 86% had abnormal ECG findings, but only 6% were found to have sustained a nyocardial infarction.
The Brugada sign has been noted in cocaine users. This finding should prompt consideration of its implications for sudden cardiac death. Note the images below.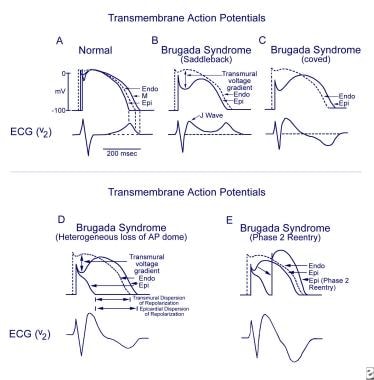 Schematics show the 3 types of action potentials in the right ventricle: endocardial (End), mid myocardial (M), and epicardial (Epi). A, Normal situation on V2 ECG generated by transmural voltage gradients during the depolarization and repolarization phases of the action potentials. B-E, Different alterations of the epicardial action potential that produce the ECGs changes observed in patients with Brugada syndrome. Adapted from Antzelevitch, 2005.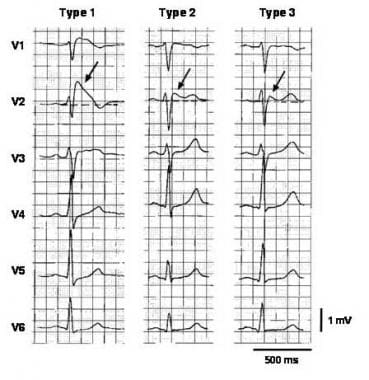 Three types of ST-segment elevation in Brugada syndrome, as shown in the precordial leads on ECG in the same patient at different times. Left panel shows a type 1 ECG pattern with pronounced elevation of the J point (arrow), a coved-type ST segment, and an inverted T wave in V1 and V2. The middle panel illustrates a type 2 pattern with a saddleback ST-segment elevated by >1 mm. The right panel shows a type 3 pattern in which the ST segment is elevated < 1 mm. According to a consensus report (Antzelevitch, 2005), the type 1 ECG pattern is diagnostic of Brugada syndrome. Modified from Wilde, 2002.
---
Did this answer your question?
Additional feedback? (Optional)
Thank you for your feedback!