Answer
Answer
Local anesthesia [1] of the penis is used as preparation to perform various procedures, including release of paraphimosis, dorsal slit of the foreskin, circumcision, [2, 3, 4] and repair of penile lacerations. The penis is innervated by the pudendal nerve (S2-S4). This nerve eventually divides into the right and left dorsal nerves of the penis that pass under the pubis symphysis to travel just below the Buck fascia to supply the sensory innervation to the penis. See relevant anatomy in the image below.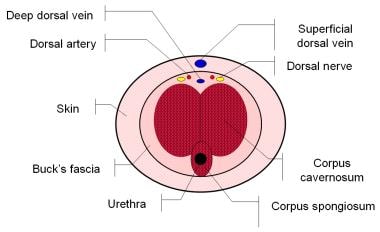 Transverse section through the base of the penis.
The penile shaft is composed of 3 erectile columns, the 2 corpora cavernosa and the corpus spongiosum, as well as the columns' enveloping fascial layers, nerves, lymphatics, and blood vessels, all covered by skin. The 2 suspensory ligaments, composed of primarily elastic fibers, support the penis at its base. For more information about the relevant anatomy, see Penis Anatomy.
The use of parenteral analgesia with or without sedation is recommended before the application of local penile anesthesia.
---
Did this answer your question?
Additional feedback? (Optional)
Thank you for your feedback!