Answer
External hemorrhoids (piles) occur distal to the dentate line and develop as a result of distention and swelling of the external hemorrhoidal venous system (see the first image below). [1] Engorgement of a hemorrhoidal vessel with acute swelling may allow blood to pool and, subsequently, clot; this leads to the acutely thrombosed external hemorrhoid, a bluish-purplish discoloration often accompanied by severe incapacitating pain (see the second image below).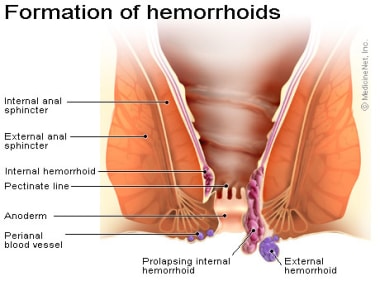 Anatomy of external hemorrhoid. Image courtesy of MedicineNet, Inc.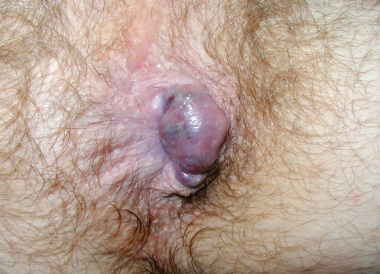 Thrombosed hemorrhoid, treated with incision and removal of clot. Image courtesy of Dr. Jonathan Adler.
---
Did this answer your question?
Additional feedback? (Optional)
Thank you for your feedback!