Answer
The equipment required can be found in a disposable paracentesis/thoracocentesis kit (see the image below).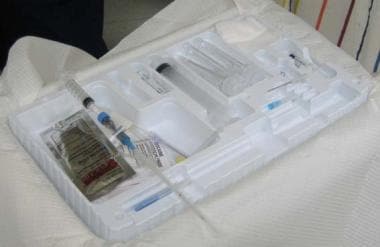 Paracentesis/thoracocentesis tray.
Equipment includes the following:
Antiseptic swab sticks

Fenestrated drape

Lidocaine 1%, 5-mL ampule

Syringe, 10 mL

Injection needles, 22-gauge (two)

Injection needle, 25-gauge

Scalpel, No. 11 blade

Catheter, 8 French, over 18-gauge × 7.5-in. needle with three-way stopcock, self-sealing valve, and a 5-mL Luer-Lok syringe

Syringe, 60 mL

Introducer needle, 20-gauge

Tubing set with roller clamp

Drainage bag or vacuum container

Specimen vials or collection bottles (three)

Gauze, 4 × 4 in.

Adhesive dressing
---
Did this answer your question?
Additional feedback? (Optional)
Thank you for your feedback!