Answer
Answer
Nail bed injuries are considered trivial by many people, so treatment is often delayed. However, optimal initial management of the damaged nail bed decreases the likelihood of chronic painful nail plate deformity.
The images below depict nailbed anatomy.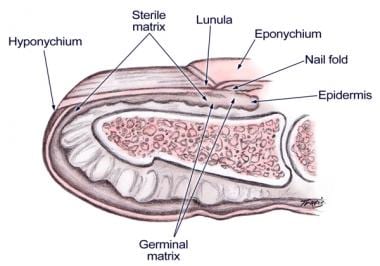 Nail bed anatomy.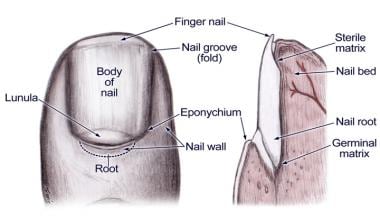 Nail bed anatomy.
Injuries of the nail bed most commonly result from compression of the nail bed between the bent or broken nail and the distal phalanx of the finger; this compression is usually due to localized trauma. [1] Stellate laceration or multiple fragments of nail bed can occur when the nail is crushed between a larger object and the bone. A sharp object often goes through the nail and amputates the tip rather than stopping; this causes a clean laceration of nail bed. The middle and distal thirds of the nail bed are the most frequent sites of injury, and 50% of injuries involve fracture of the distal phalanx, tuft, or both.
Primary assessment includes obtaining a good patient history, including the timing and mechanism of the injury. The physical examination should looks for signs of contamination, exposure of bone, viability of surrounding skin, and evidence of fingertip contusion. Radiographs may be helpful in evaluating for the level and extent of bony injury.
---
Did this answer your question?
Additional feedback? (Optional)
Thank you for your feedback!