Answer
Answer
Chest computed tomography (CT) can often detect abnormalities that may or may not be well visualized on chest radiography, and thus are useful in identifying small or early consolidations, characterizing extent and heterogenicity of disease, facilitating earlier diagnoses, and directing therapeutic management. [54]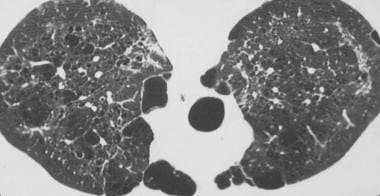 High-resolution computed tomography scan obtained through the upper lobes in the prone position in a patient with a history of Pneumocystis carinii pneumonia. This image shows parenchymal and subpleural cysts and patchy fibrosis that resulted from the Pneumocystis carinii infection.
CT is especially effective at defining extent of disease, including when multiple patterns of injury are occurring simultaneously.
The other major benefit of CT imaging is its utility in therapeutic procedures, including lung biopsy and tissue excision.
---
Did this answer your question?
Additional feedback? (Optional)
Thank you for your feedback!