Answer
Answer
Chest radiography is usually the initial imaging modality.
The timing, progression, and distribution of findings are helpful in identifying correlations.
The most typical findings on chest radiography include infiltrates with consolidation, peribronchovascular lesions, and nodular space-occupying lesions.
Other findings include atelectasis, cavitation, pleural effusions, lymphadenopathy, and cardiomegaly.
Some findings are correlated with certain etiologies of pulmonary infection; however, the pattern of radiographic findings is often unreliable in immunocompromised patients given the decreased inflammatory response.
For instance, as many as 14% of chest radiographic findings are normal in AIDS patients with pulmonary TB. [53]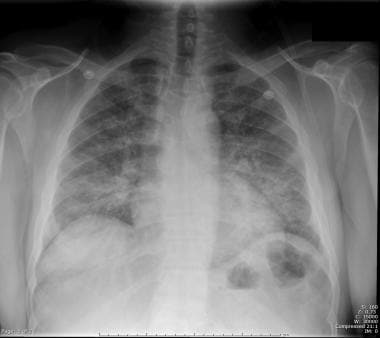 Chest radiograph demonstrating diffuse bilateral infiltrates in a patient with Pneumocystis carinii pneumonia.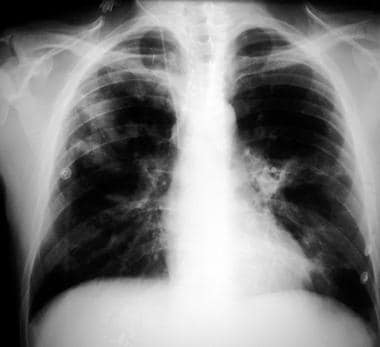 Chest radiograph in a patient with HIV infection and focal infiltrates due to tuberculosis.
---
Did this answer your question?
Additional feedback? (Optional)
Thank you for your feedback!