Answer
Answer
Malignancy, especially hematologic malignancy, is a large risk factor for developing pneumonia. The pathogenicity and severity of disease is related to the degree and duration of neutropenia. Most infectious etiologies are polymicrobial including gram-positive and gram-negative organisms from the upper respiratory tract. However, in about 10-25% of patients, an infectious focus is not identified in sputum, with the only evidence of infection being a positive blood culture. [31]
Patients with profound, prolonged neutropenia are more susceptible to invasive fungal pathogens such as aspergillus species, and the agents of mucormycosis.
Viruses are also involved, primarily VZV. Respiratory viruses such as influenza, respiratory syncytial virus (RSV), Adenovirus, and Metapneumovirus are increasingly documented in neutropenic patients.
Mortality in patients with febrile neutropenia is 30-50%. [32, 33]
The American Society of Clinical Oncology (ASCO) recommend prophylaxis (eg, with trimethoprim-sulfamethoxazole) for patients receiving chemotherapy regimens associated with >3.5% risk for Pneumocystis jirovecii pneumonia. [34, 35]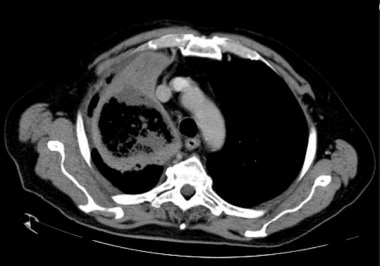 CT of AML patient with a fungal pneumonia in the right upper lobe characterized by a cavitary lesion without air fluid levels. Courtesy of Radiopaedia (https://radiopaedia.org/), case of Dr Roberto Schubert, rID 17628.
---
Did this answer your question?
Additional feedback? (Optional)
Thank you for your feedback!