Answer
Answer
In cases of high-pressure empyema or pleural effusion, removal of 50-200 mL of fluid using a syringe and a 14-ga needle, as shown below, might prevent high-pressure spraying of the accumulated fluid once the pleural space is entered with the surgical instrument.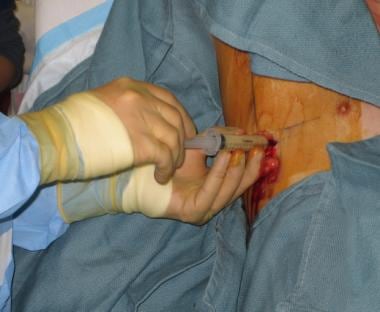 A needle and a syringe are used to decompress the pleural cavity in a case of tension empyema.
Since the intercostal vessels and nerve run on the inferior margin of each rib, incision and tunneling should be performed over the rib. Insertion of the chest tube should be performed immediately above and as close to the superior rib margin as possible in order to minimize the risks of injury to the nerve and blood vessels that follow the lower margin of each rib.
Errors that are commonly observed but easily avoidable include inadequate volume of local anesthetic, failure to wait adequate time for anesthetic to take effect, and too small an incision.
A "safe triangle" (shown below) has been described as the preferred site of insertion. This is the triangle bordered by the anterior border of the latissimus dorsi, the lateral border of the pectoralis major muscle, a line superior to the horizontal level of the nipple, and an apex below the axilla. [11]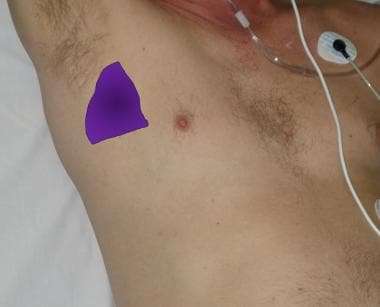 The safe triangle.
Small-bore drains are recommended, as they are more comfortable than larger-bore tubes, but no evidence indicates that either is therapeutically superior. Large-bore drains are recommended for drainage of acute hemothorax and to monitor further blood loss. [11]
---
Did this answer your question?
Additional feedback? (Optional)
Thank you for your feedback!