Answer
Answer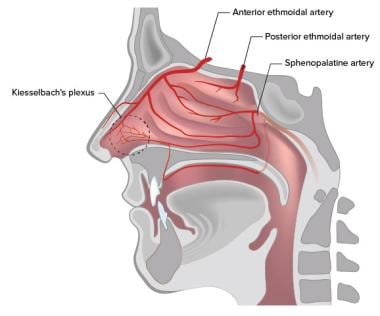 Nasal vascular anatomy.
The lateral nasal wall is supplied by the sphenopalatine artery posteroinferiorly and by the anterior and posterior ethmoid arteries superiorly. The nasal septum also derives its blood supply from the sphenopalatine and the anterior and posterior ethmoid arteries with the added contribution of the superior labial artery (anteriorly) and the greater palatine artery (posteriorly). The Kiesselbach plexus, or the Little area, represents a region in the anteroinferior third of the nasal septum, where all 3 of the chief blood supplies to the internal nose converge. For more information about the relevant anatomy, see Nasal Anatomy.
---
Did this answer your question?
Additional feedback? (Optional)
Thank you for your feedback!