Answer
See the list below:
If the clinical presentation is typical and an olive is felt, the diagnosis is almost certain. However formal ultrasonography is still recommended to evaluate the pylorus and confirm the diagnosis.

Ultrasonography is the imaging modality of choice when evaluating a child for infantile hypertrophic pyloric stenosis (IHPS).

[14]

It is both highly sensitive (90-99%) and specific (97-100%) in the hands of a qualified sonographer. The pylorus is viewed in both longitudinal and transverse planes. The sonographic hallmark of infantile hypertrophic pyloric stenosis is the thickened pyloric muscle.

As many infants present through the emergency department, point of care ultrasonography can be used at the bedside to help the emergency physician image the pylorus. One study by Svitiz et al, found that pediatric emergency physicians had a 100% sensitivity and specificity of identifying pyloric stenosis.

[15]

Criteria for making the diagnosis include pyloric muscle wall thickness equal to or greater than 3 mm, and pylorus length greater than 13mm. The entire pyloric diameter may range from 10-14 mm.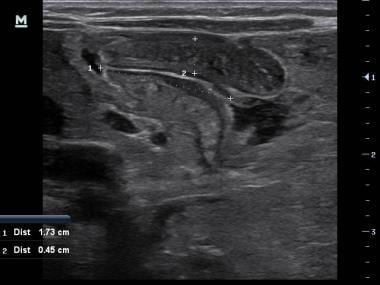 Point-of-care ultrasound performed by a pediatric emergency physician accurately identifying the pyloric wall thickness and length that meets criteria for pyloric stenosis diagnosis.
See the list below:
Other sonographic signs associated with pyloric stenosis include the 'antral nipple' sign, the 'shoulder' sign and 'donut' sign.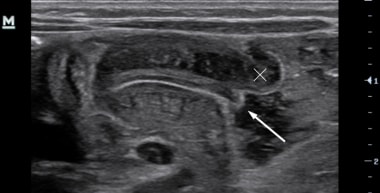 The 'antral nipple sign' demonstrated by the arrow, the 'X' indicates the 'shoulder sign'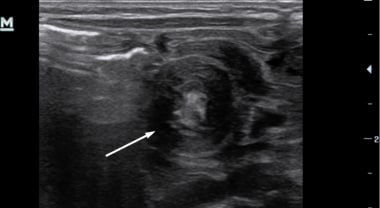 The 'donut' sign demonstrated by the arrow.
See the list below:
Infantile hypertrophic pyloric stenosis may be falsely diagnosed in infants who have pylorospasm. Ultrasonography also allows for observation of peristaltic activity, differentiating between pylorospasm and true infantile hypertrophic pyloric stenosis.
---
Did this answer your question?
Additional feedback? (Optional)
Thank you for your feedback!