Answer
Local anesthesia is always warranted. After skin preparation, draping, and identification of the needle insertion site, use a 25- or 27-gauge needle to inject 2-5 mL of local anesthetic (eg, lidocaine 1%) into the subcutaneous tissue (see the image below). (See Local Anesthetic Agents, Infiltrative Administration.) Deep injections that might enter the joint space are not recommended, because they may alter the synovial fluid analysis results.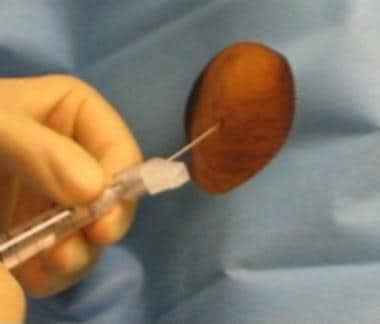 Infiltration of local anesthetic via medial parapatellar approach (left knee).
---
Did this answer your question?
Additional feedback? (Optional)
Thank you for your feedback!