Answer
The mechanism of pain production remains controversial. One theory suggests that peripheral injury or disease of the trigeminal nerve increases afferent firing in the nerve; failure of central inhibitory mechanisms may be involved as well. Pain is perceived when nociceptive neurons in a trigeminal nucleus involve thalamic relay neurons. An abnormal vascular course of the superior cerebellar artery is often cited as the cause, as well as other small arteries or veins compressing the facial nerve. In about 85% of cases, no lesion is identified, even after extensive investigations, and the etiology is labeled idiopathic (classic) by default.
Aneurysms, tumors, chronic meningeal inflammation, or other lesions may irritate trigeminal nerve roots along the pons, causing symptomatic trigeminal neuralgia. Uncommonly, an area of demyelination from multiple sclerosis may be the precipitant. Lesions of the entry zone of the trigeminal roots within the pons may cause a similar pain syndrome.
An area of demyelination is shown in the image below.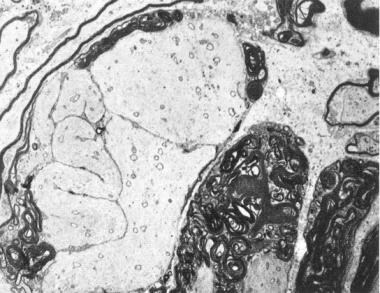 Microscopic demonstration of demyelination in primary trigeminal neuralgia. A tortuous axon is surrounded by abnormally discontinuous myelin. Electron microscope, 3, 300 X.
Infrequently, adjacent dental fillings composed of dissimilar metals may trigger attacks, [4] and an atypical case has been reported following tongue piercing. A case report of trigeminal neuralgia in a patient with spontaneous intracranial hypotension has been reported; both conditions resolved following surgical treatment of a cervical root sleeve dural defect. [5]
---
Did this answer your question?
Additional feedback? (Optional)
Thank you for your feedback!