Answer
A head CT scan without intravenous (IV) contrast should be obtained if CNS infection, trauma, or a cerebral vascular accident (CVA) is suspected. A CT scan is excellent for detecting acute hematomas and most subarachnoid hemorrhages (SAH) but is most accurate early in the course. Follow-up lumbar puncture may be needed to rule out SAH.
One study found a high prevalence (41%) of abnormal CT scan findings in patients with acute mental status changes in the ED. Eight clinical predictors were significantly associated with an abnormal scan, including diastolic blood pressure of more than 80 mm Hg, focal weakness, a Glasgow Coma Score of less than 15, antiplatelet use, upgoing plantar response, headache, anticoagulant use, and dilated pupils. [15]
Although not typically part of the workup in the ED, a brain MRI may be considered if readily available and the need confirmed by neurologist and/or radiologist. MRI helps distinguish between Alzheimer disease and vascular causes of dementia. The MRI may show subtle signs of stroke missed on CT and is the imaging modality of choice for multiple sclerosis. An example of MRI in a patient with moderate Alzheimer disease is shown in the image below.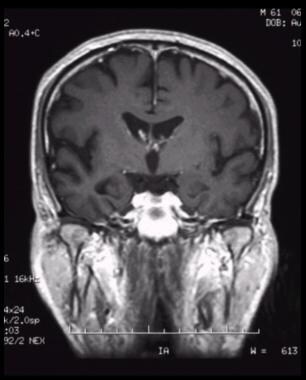 Coronal T1-weighted MRI scan in a patient with moderate Alzheimer disease. Brain image reveals hippocampal atrophy, especially on the right side.
Plain abdominal radiographs may reveal swallowed bags that contain drugs of abuse ("body packing") or radiodense substances such as iron tablets.
---
Did this answer your question?
Additional feedback? (Optional)
Thank you for your feedback!