Answer
Answer
Physical and occupational therapy and speech pathology consultations assist the patient with amyotrophic lateral sclerosis (ALS) in maintaining strength, daily living activities, and communication skills (as demonstrated in the image below).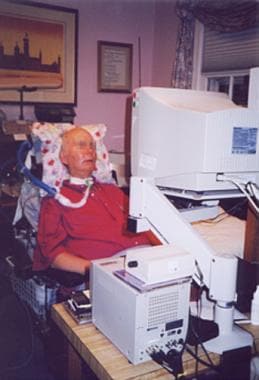 Patient with amyotrophic lateral sclerosis (ALS) using eye-gaze computer device to conduct business and communicate.
When forced vital capacity (FVC) reaches about 50% of predicted levels, supplemental respiratory support may be needed. (The first symptom may be disturbed sleep.) Use of noninvasive positive pressure ventilation improves quality of life; further respiratory deterioration may necessitate tracheostomy and ventilator support.
Patients with progressive weight loss, symptomatic dysphagia, or aspiration should be considered for percutaneous gastrostomy placement. Risk of percutaneous endoscopic gastrostomy (PEG) placement increases with declining respiratory function. PEG is best placed before FVC falls to less than 50% of predicted levels.
Advance directives may be addressed by the patient's neurologist and be discussed at regular intervals. Hospice referral may be appropriate to aid in care during the terminal phase of the disease.
---
Did this answer your question?
Additional feedback? (Optional)
Thank you for your feedback!