Answer
Traditionally, three fourths of spontaneous bacterial peritonitis infections have been caused by aerobic gram-negative organisms (50% of these being Escherichia coli). The remainder has been due to aerobic gram-positive organisms (19% streptococcal species). E coli is displayed in the image below.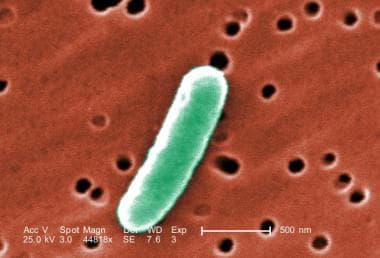 Gram-negative Escherichia coli.
However, some data suggest that the percentage of gram-positive infections may be increasing. [2, 3] One study cites a 34.2% incidence of streptococci, ranking in second position after Enterobacteriaceae. [3] Viridans group streptococci (VBS) accounted for 73.8% of these streptococcal isolates.
Anaerobic organisms are rare because of the high oxygen tension of ascitic fluid.
A single organism is noted in 92% of cases, and 8% of cases are polymicrobial.
---
Did this answer your question?
Additional feedback? (Optional)
Thank you for your feedback!