Answer
Pilonidal disease is described back as far as 1833, when Mayo described a hair-containing cyst located just below the coccyx (see the image below). Hodge coined the term "pilonidal" from its Latin origins in 1880, and, today, pilonidal disease describes a spectrum of clinical presentations, ranging from asymptomatic hair-containing cysts and sinuses to large symptomatic abscesses of the sacrococcygeal region that have some tendency to recur. [1, 2]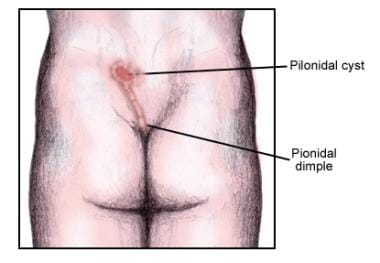 Pilonidal cyst.
In the 19th and early 20th centuries, pilonidal disease was studied on an embryologic basis by many authors who considered it to be of congenital origin. Excision of the lesion was thought to be fundamental to removing all embryologic remnants. This was the prevailing thought process well into the 20th century, when pilonidal disease gained prominence and practical importance amongst World War II soldiers with a high incidence of the disease, so much so it came to be known as Jeep disease. According to US Army publications, nearly 80,000 US soldiers were admitted and treated at US Army Hospitals between the years 1941-1945. Prompt return of soldiers to the field was important, and, during that time, several articles proposed a variety of surgical treatments aimed at this goal.
After the war, Patey and Scarf hypothesized the origin of pilonidal disease was acquired by penetration of hair into the subcutaneous tissue with consequent granulomatous reaction, basing this theory on the high incidence of recurrence, as well as occurrence of disease in other areas of the body, such as the hands of a barber or sheep shearer. Other authors have followed this emphasis of hair as disease origin, and, in fact, an acquired etiology of the disease is now the prevailing theory in the medical world. [3]
---
Did this answer your question?
Additional feedback? (Optional)
Thank you for your feedback!