Answer
The causative agent for Colorado tick fever is transmitted by tick bite. The agent is a double-stranded RNA virus of the genus Coltivirus in the family Reoviridae, the entire genome of which has been sequenced. Although the virus has been found in many tick species, the vector and major reservoir for Colorado tick fever is D andersoni, also known as the Rocky Mountain wood tick. A closely related Coltivirus has been implicated in human disease in Europe, isolated from Ixodes ticks (see the image below). [4]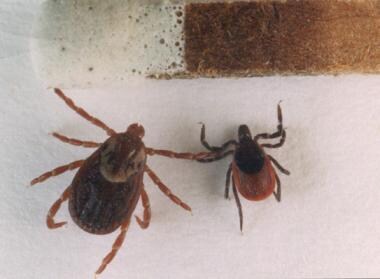 Two ticks next to a common match. On right is Ixodes scapularis, vector for Lyme disease. On left is Dermacentor, vector for Colorado tick fever.
---
Did this answer your question?
Additional feedback? (Optional)
Thank you for your feedback!