Answer
Tapeworms are long, segmented worms of the class Cestoda, which comprise 1 of 3 classes of parasitic worms (worms that require a host within which to mature). The other classes are Nematoda and Trematoda. These worms lack an intestinal tract and instead can absorb nutrients through their integument.
The adult consists of a head (scolex), where the worms attach to the mucosa of the intestine; a neck; and a segmented body that contains both male gonads and female gonads (proglottids).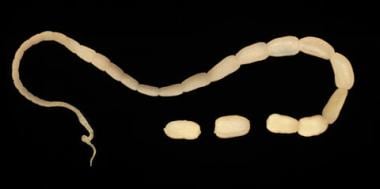 Adult tapeworm of Dipylidium caninum. Image courtesy of the Centers for Disease Control and Prevention (CDC).
---
Did this answer your question?
Additional feedback? (Optional)
Thank you for your feedback!