Answer
The use of fractional urine specimens may be useful in the diagnosis of prostatitis. Although not practical in most emergency departments, this technique is used by urologists if the diagnosis of prostatitis remains unclear.
The initial 10 mL of voided urine represents urine from the urethra and is termed voided urine 1 (V1). Elevated bacterial counts in V1 suggest urethritis. The next 200 mL of voided urine is discarded, and a midstream urine sample (V2) is collected, which represents bladder urine. Bacterial counts elevated in the midstream sample suggest cystitis without prostatitis.
Next, the physician performs a prostatic massage and the expressed prostatic secretions (EPS) are collected from the urethral meatus (see the image below). Finally, the 10 mL of voided urine following prostatic massage (V3) are collected. The bacterial findings of the EPS and V3 samples represent the microbiologic characteristics of the prostate gland.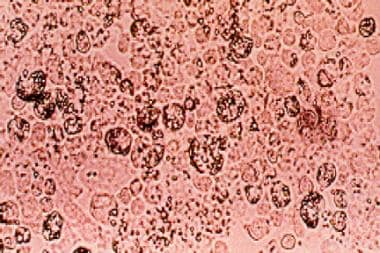 Bacterial prostatitis. Expressed prostatic fluid contains more than 10 white blood cells per high-power field, indicating prostatitis.
Chronic bacterial prostatitis can be diagnosed if the culture of the EPS and V3 samples produce the same bacteria as the first-voided specimen and the colony count of the 2 cultures is at least 10 times as great as the first-void specimen.
---
Did this answer your question?
Additional feedback? (Optional)
Thank you for your feedback!