Answer
Onset of symptoms of respiratory diphtheria typically follows an incubation period of 2-5 days (range, 1-10 d). [1, 10] Symptoms initially are general and nonspecific, often resembling a typical viral upper respiratory infection (URI). Respiratory involvement typically begins with sore throat and mild pharyngeal inflammation. Development of a localized or coalescing pseudomembrane can occur in any portion of the respiratory tract. The pseudomembrane is characterized by the formation of a dense, gray debris layer composed of a mixture of dead cells, fibrin, RBCs, WBCs, and organisms; the pseudomembrane is shown in the image below.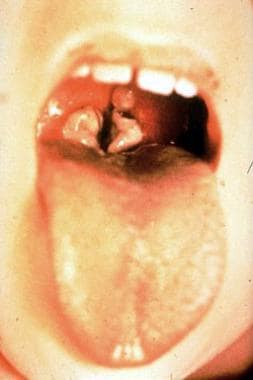 The characteristic thick membrane of diphtheria infection in the posterior pharynx.
Removal of the membrane reveals a bleeding, edematous mucosa. The distribution of the membrane varies from local (eg, tonsillar, pharyngeal) to widely covering the entire tracheobronchial tree. The membrane is intensely infectious, and droplet and contact precautions must be followed when examining or caring for infected patients. A combination of cervical adenopathy and swollen mucosa imparts a "bull's neck" appearance to many of the infected patients; this is shown in the image below. The most frequent cause of death is airway obstruction or suffocation following aspiration of the pseudomembrane. [17]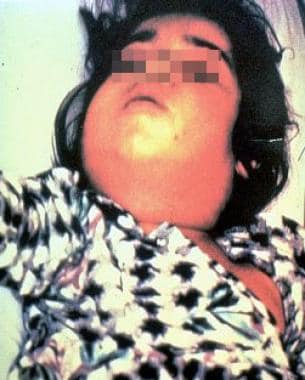 Cervical edema and cervical lymphadenopathy from diphtheria infection produce a bull's neck appearance in this child. Source: Public Domain www.immunize.org/images/ca.d/ipcd1861/img0002.htm.
---
Did this answer your question?
Additional feedback? (Optional)
Thank you for your feedback!