Answer
C diphtheria is responsible for both endemic and epidemic diseases, and it was first described in the 5th century BC by Hippocrates. Diphtheria manifests as either an upper respiratory tract or cutaneous infection and is caused by the aerobic gram-positive bacteria, Corynebacterium diphtheria. The infection usually occurs in the spring or winter months. It is communicable for 2-6 weeks without antibiotic treatment. [1, 2] People who are most susceptible to infection are those who are not completely immunized or have low antitoxin antibody levels and have been exposed to a carrier or diseased individual. A carrier is someone whose cultures are positive for the diphtheria species but does not exhibit signs and symptoms. Studies show that as the number of asymptomatic carriers decrease, the number of diphtheria cases consequently decline. [1, 3]
C diphtheria is a nonencapsulated, nonmotile, gram-positive bacillus; this is shown in the image below. Pathogenic strains can result in severe localized upper respiratory infection, localized cutaneous infections, and rarely systemic infection.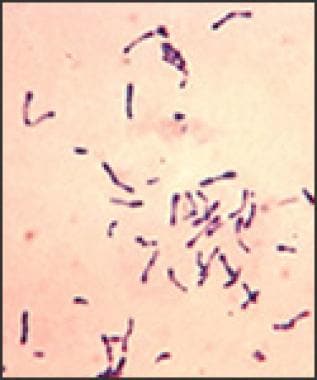 Photomicrograph depicts a number of gram-positive Corynebacterium diphtheriae bacteria, which had been stained using the methylene blue technique. The specimen was taken from a Pai's slant culture.
Exotoxins are associated with both invasive localized and systemic forms of this disease; however, case reports of invasive disease in absence of the exotoxin release have been documented. [1] Exotoxins are encoded in viral bacteriophages, which are transmitted from bacteria to bacteria. The 3 isolated strains of C diphtheria include gravis, intermedius, and mitis. Intermedius is thought to be responsible for systemic elaboration of the disease, as it is most often associated with the exotoxin. However, all 3 strains are capable of producing toxins. [1, 2]
Corynebacterium ulcerans is a relatively rare species, which more frequently causes cutaneous diphtheria; however, this species may rarely cause respiratory symptoms. Severity of disease is dependent on exotoxin production. C ulcerans has also been linked to zoonotic transmission to humans and has been most frequently seen in agricultural communities associated with livestock. [4, 5]
The use of diphtheria and tetanus toxoids and acellular pertussis (DTaP) in the United States has greatly decreased the incidence of diphtheria. Although childhood DTaP coverage exceeds 80%, acquired immunity wanes over time, requiring a booster to preserve immunity. Although vaccination is not guaranteed to prevent diphtheria, vaccinated persons who go on to develop diphtheria have been reported as having milder and less fatal infections. [6]
---
Did this answer your question?
Additional feedback? (Optional)
Thank you for your feedback!