Answer
Condyloma acuminatum (also known as genital warts or anogenital warts) refers to an epidermal manifestation attributed to the epidermotropic human papillomavirus (HPV), as in the images below. More than 100 types of double-stranded HPV papovavirus have been isolated to date. Many of these have been related directly to an increased neoplastic risk in men and women.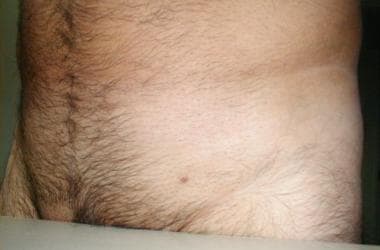 Genital wart in pubic area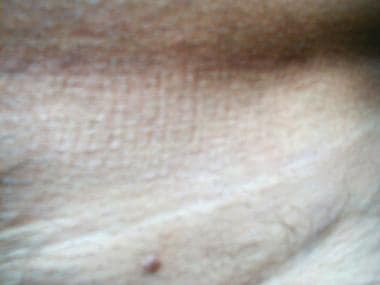 Genital wart in pubic area (look at bottom middle of picture)
Approximately 90% of condylomata acuminata are related to HPV types 6 and 11. These 2 types are the least likely to have a neoplastic potential. Risk for neoplastic conversion has been determined to be moderate (types 33, 35, 39, 40, 43, 45, 51-56, 58) or high (types 16, 18), [1] with many other isolated types. The picture is complicated by proven coexistence of many of these types in the same patient (10-15% of patients), the lack of adequate information on the oncogenic potential of many other types, and ongoing identification of additional HPV-related clinical pathology.
For example, bowenoid papulosis, seborrheic keratoses, and Buschke-Löwenstein tumors have been linked to HPV infections though they were previously a part of the differential diagnosis of condyloma acuminatum. Bowenoid papulosis consists of rough papular eruptions attributed to HPV and is considered to be a carcinoma in situ. The eruptions can be red, brown, or flesh colored. They may regress or become invasive. Seborrheic keratoses previously were considered a benign skin manifestation. HPV has been linked to rough plaques indicative of this disease. It has both an infectious and an oncogenic potential. Finally, Buschke-Löwenstein tumor (ie, giant condyloma) is a fungating, locally invasive, low-grade cancer attributed to HPV.
---
Did this answer your question?
Additional feedback? (Optional)
Thank you for your feedback!