Answer
Various breast masses are shown in the mammograms below.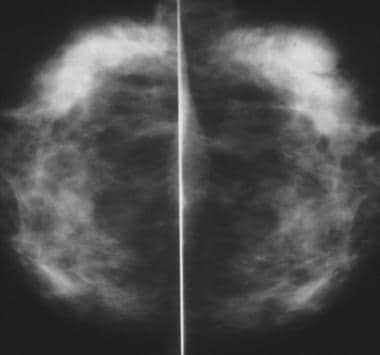 Craniocaudal mammograms obtained 1 year apart demonstrate a newly developing mass in the outer part of the breast.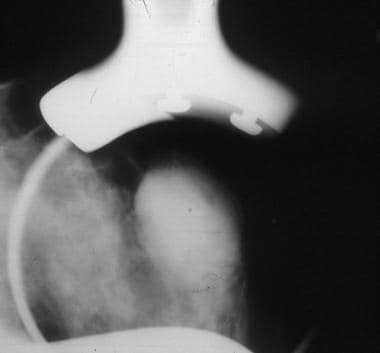 Spot compression mammogram of the outer part of the breast demonstrates a new mass as smooth, margined, and oval. The findings are consistent with a fibroadenoma, a cyst, or a malignancy. In this patient, the diagnosis was a rapidly growing fibroadenoma.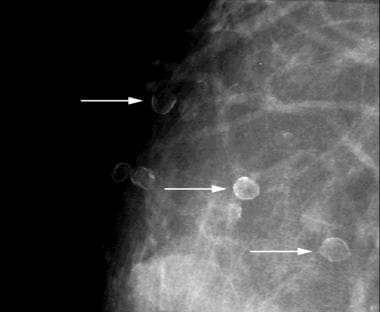 Eggshell or rim calcifications (arrows) have walls thinner than those of lucent-centered calcifications.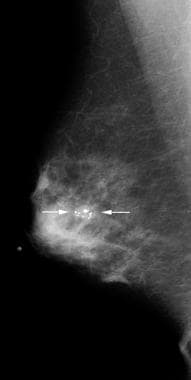 This mass with associated large, coarse calcifications (arrows) is a degenerating fibroadenoma.
Complex breast abscess. In this clip, the features of a loculated breast abscess containing echogenic purulent material are noted. Example of imaging with a linear high-frequency transducer.
Loculated breast abscess, curvilinear. In this clip, a large, loculated breast abscess and its features are noted. Example of imaging with a lower-frequency curvilinear transducer to better appreciate the extent of this large abscess.
---
Did this answer your question?
Additional feedback? (Optional)
Thank you for your feedback!