Answer
Puerperal breast abscesses most often contain S aureus and streptococcal species. Methicillin-resistant S aureus (MRSA) has become increasingly common. [24] The overall rate of breastfeeding cessation among patients with breast abscess was 41% in a US cohort and did not differ between MRSA and MSSA infections. [38] In a US cohort, 81% of S aureus–confirmed cultures were MRSA pulsed-field type USA 300–0114. [38] Nonpuerperal abscesses typically contain mixed flora (S aureus, streptococcal species) and anaerobes. [3] Diabetes is strongly associated with incidence and clinical outcomes of breast abscesses in nonlactating women. One study demonstrated a 72% prevalence of diabetes in women with nonpuerperal abscesses. [39] Cigarette smoking is a debated risk factor but has been shown to have a strong association with development of nonpuerperal mastitis. [40, 24, 3, 25, 41] Primary breast abscess has also been reported to be more common in African Americans [25] and those with obesity, [25] and a possible association with inadequate vitamin A supplementation has also been described. [8] Nipple piercing has been associated with increased risk of developing subareolar breast abscess. [41]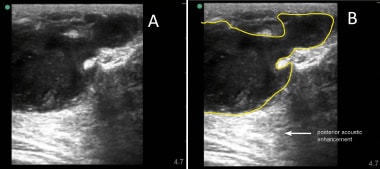 Loculated breast abscess. A) A large loculated abscess is seen containing hypoechoic fluid and some internal echoes. Posterior acoustic enhancement is seen. Care must be taken to image at an adequate depth to visualize posterior borders of breast lesions. B) The abscess is outlined in yellow and the posterior acoustic enhancement is noted.
---
Did this answer your question?
Additional feedback? (Optional)
Thank you for your feedback!