Answer
Breast masses are broadly classified as benign or malignant. Common causes of benign breast lesions include fibrocystic disease, fibroadenoma (see the image below), intraductal papilloma, and abscess. Malignant breast disease encompasses many histologic types that include, but are not limited to, in situ ductal or lobular carcinoma, infiltrating ductal or lobular carcinoma, and inflammatory carcinoma. The main concern of many women presenting with a breast mass is the likelihood of cancer. Reassuringly, most breast masses are benign.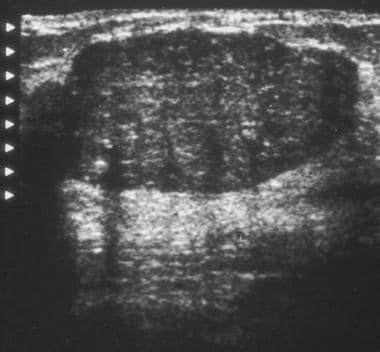 Ultrasonogram demonstrates a hypoechoic mass with smooth, partially lobulated margins typical of a fibroadenoma.
See Breast Lumps in Young Women: Diagnostic Approaches, a Critical Images slideshow, to help identify and manage palpable breast lumps in young women.
Breast infections are divided into lactational and non-lactational infections and puerperal versus nonpuerperal, depending on their association with pregnancy. The process may be confined to the skin overlying the breast, or it may result from an underlying lesion (eg, sebaceous cyst), as in hidradenitis suppurativa. [1, 2, 3, 4]
---
Did this answer your question?
Additional feedback? (Optional)
Thank you for your feedback!