Answer
Radiography for joint assessment is of limited value in acute hemarthrosis. Evidence of chronic degenerative joint disease may be visible on radiographs in patients who have been untreated or inadequately treated or in those with recurrent joint hemorrhages. In these patients, radiographs may show synovial hypertrophy, hemosiderin deposition, fibrosis, and damage to cartilage that progresses with subchondral bone cyst formation.
Hemophilic arthropathy evolves through 5 stages, starting as an intra-articular and periarticular edema due to acute hemorrhage and progressing to advanced erosion of the cartilage with loss of the joint space, joint fusion, and fibrosis of the joint capsules. [9] See the image below. For discussion of the 5-stage Arnold-Hilgartner classification of hemophilic arthropathy, see Imaging in Musculoskeletal Complications of Hemophilia.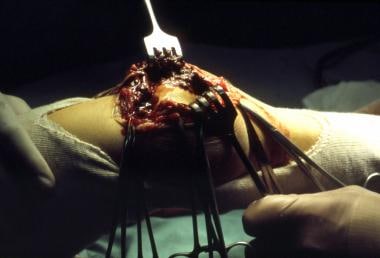 Photograph of a hemophilic knee at surgery, with synovial proliferation caused by repeated bleeding; synovectomy was required.
---
Did this answer your question?
Additional feedback? (Optional)
Thank you for your feedback!