Answer
Pseudotumors are produced by a slow expansion of repeated hemorrhages in bone or soft tissues. They can be restricted by the fascial planes of a muscle, cause resorption of neighboring bone by pressure-induced ischemia, or develop under the periosteum, leading to erosion of the bony cortex. They develop slowly over months to years and often are asymptomatic, unless pressure on the nerves or vascular compromise occurs.
Pseudotumors contain a brownish material and can become infected. The buttock, pelvis, and thighs are common locations for a pseudotumor (see the images below).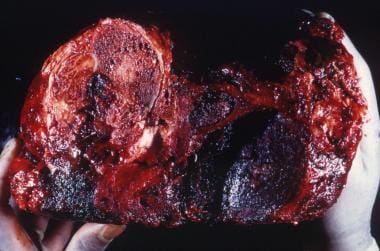 Transected pseudocyst (following disarticulation of the left lower extremity due to vascular compromise, nerve damage, loss of bone, and nonfunctional limb). This photo shows black-brown old blood, residual muscle, and bone.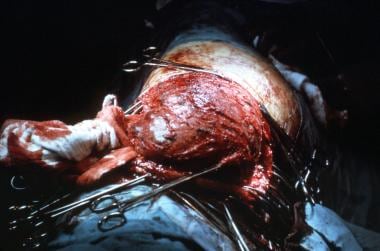 Dissection of a pseudocyst.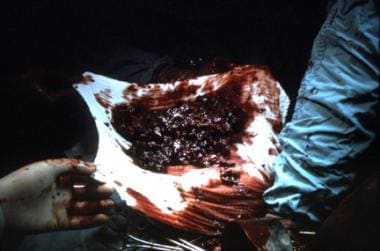 Transected pseudocyst with chocolate brown-black old blood.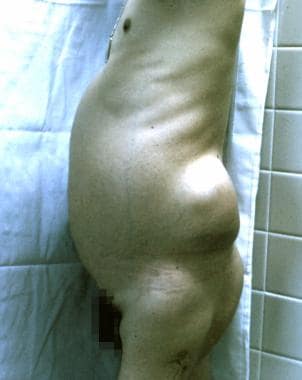 Photograph of a patient who presented with a slowly expanding abdominal and flank mass, as well as increasing pain, inability to eat, weight loss, and weakness of his lower extremity.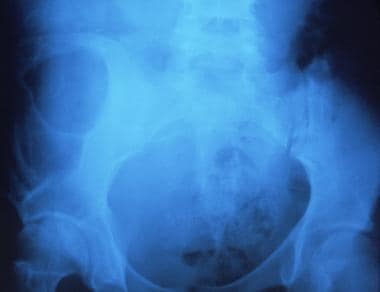 Plain radiograph of the pelvis showing a large lytic area.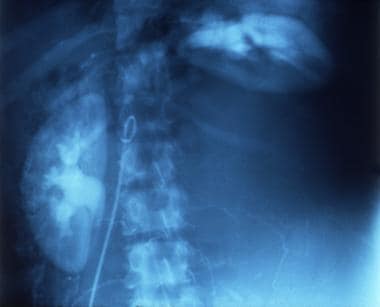 Intravenous pyelogram showing extreme displacement of the left kidney and ureter by a pseudocyst.
Photograph depicting extensive spontaneous abdominal wall hematoma and thigh hemorrhage in an older, previously unaffected man with an acquired factor VIII inhibitor.
---
Did this answer your question?
Additional feedback? (Optional)
Thank you for your feedback!