Answer
The gene for FVIII (F8C) is located on the long arm of chromosome X, within the Xq28 region. The gene is unusually large, representing 186 kb of the X chromosome. It comprises 26 exons and 25 introns. Mature FVIII contains 2332 amino acids. See the image below.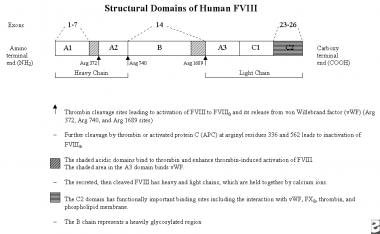 Structural domains of human factor VIII. Adapted from: Stoilova-McPhie S, Villoutreix BO, Mertens K, Kemball-Cook G, Holzenburg A. 3-Dimensional structure of membrane-bound coagulation factor VIII: modeling of the factor VIII heterodimer within a 3-dimensional density map derived by electron crystallography. Blood. Feb 15 2002;99(4):1215-23; Roberts HR, Hoffman M. Hemophilia A and B. In: Beutler E, Lichtman MA, Coller BS, et al, eds. Williams Hematology. 6th ed. NY: McGraw-Hill; 2001:1639-57; and Roberts HR. Thoughts on the mechanism of action of FVIIa. Presented at: Second Symposium on New Aspects of Haemophilia Treatment; 1991; Copenhagen, Denmark.
Approximately 40% of cases of severe FVIII deficiency arise from a large inversion that disrupts the FVIII gene. Deletions, insertions, and point mutations account for the remaining 50-60% of the F8C defects that cause hemophilia A.
Low FVIII levels may arise from defects outside the FVIII gene, as in type IIN von Willebrand disease, in which the molecular defect resides in the FVIII-binding domain of von Willebrand factor.
---
Did this answer your question?
Additional feedback? (Optional)
Thank you for your feedback!