Answer
The uncircumcised male penis comprises the penile shaft, the glans penis, the coronal sulcus, and the foreskin/prepuce, as shown below.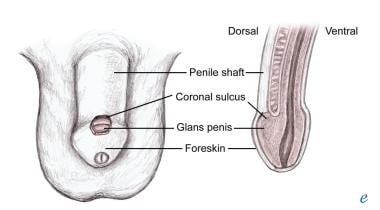 Anatomy of the penis.
There are many techniques of paraphimosis reduction, including manual reduction and the osmotic method, puncture method, and hyaluronidase method (see Treatment). The main goal of each method is to reduce the foreskin to its naturally occurring position over the glans penis by manipulating the edematous glans and/or the distal prepuce. Sterile technique should be used for all invasive procedures. [5, 6, 7, 8, 9, 10, 11, 12, 13, 14, 15]
---
Did this answer your question?
Additional feedback? (Optional)
Thank you for your feedback!