Answer
Answer
Ultrasonography is noninvasive and can help to differentiate epididymitis from testicular torsion. [6, 7] (The ultrasonogram below demonstrates the presence of epididymitis.) One area under investigation is the ability of emergency physicians to use bedside ultrasonography to accurately diagnose patients with acute scrotal pain.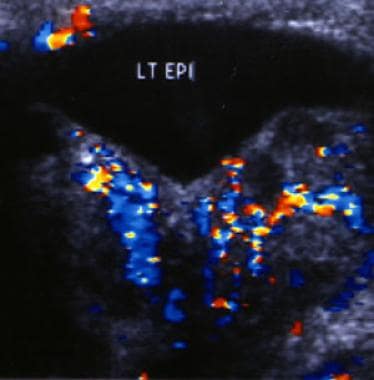 Color Doppler sonogram of the left epididymis in a patient with acute epididymitis. The image demonstrates increased blood flow in the epididymis resulting from the active inflammation.
In a retrospective chart review of 36 patients with a chief complaint of acute scrotal pain who were evaluated by an emergency physician (EP) with the aid of bedside ultrasonography, the ultrasonographic findings agreed with the results of confirmatory studies (radiology or surgery) in 35 of 36 patients. Beside ultrasonography therefore had a sensitivity of 95% and a specificity of 94%. [15]
In a study of 134 adult patients with acute epididymitis who underwent scrotal ultrasonography and palpation on first presentation, epididymitis was predominantly located in 24 cases (17.9%) in the head, 52 cases (38.8%) in the tail, and 58 cases (43.3%) in both. Common ultrasound features included hydrocele, epididymal enlargement, hyperperfusion, and testicular involvement. Under conservative treatment, ultrasound parameters normalized without evidence of testicular atrophy, even in patients with epididymal abscess or concomitant orchitis. [16]
However, although the use of bedside ultrasonography to accurately diagnose patients with acute scrotal pain is promising, the skill level of EPs at using ultrasonography varies, and larger randomized, prospective, blinded studies must be performed to further evaluate the accuracy of these results.
Boettcher et al performed a retrospective study to differentiate torsion of the appendix testis (AT) from epididymitis and found that the best predictors for epididymitis were dysuria, a painful epididymis on palpation, and altered epididymal echogenicity and increased peritesticular perfusion found on ultrasound studies. For torsion of the AT, the best predictor was a positive blue dot sign (a tender nodule with blue discoloration on the upper pole of the testis). [17]
---
Did this answer your question?
Additional feedback? (Optional)
Thank you for your feedback!