Answer
Answer
The CDC guidelines recommend that the following tests and findings be used to help diagnose acute epididymitis [5] :
Gram or methylene blue or gentian violet stain of urethral secretions demonstrating ≥2 white blood cells (WBC) per oil immersion field.

Positive leukocyte esterase test on first-void urine.

Microscopic examination of sediment from a spun first-void urine demonstrating ≥10 WBC per high-power field.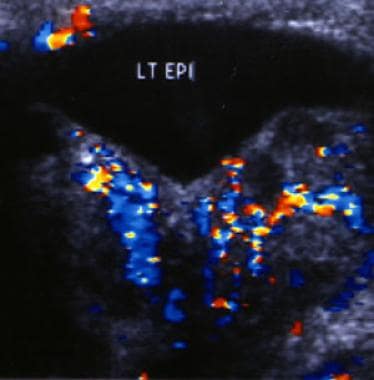 Color Doppler sonogram of the left epididymis in a patient with acute epididymitis. The image demonstrates increased blood flow in the epididymis resulting from the active inflammation.
---
Did this answer your question?
Additional feedback? (Optional)
Thank you for your feedback!