Answer
Small bowel obstruction most often is caused by adhesions from previous surgery. In elderly patients, an incarcerated hernia, as shown below, causes approximately 30% of cases, and approximately 20% are caused by gallstone ileus.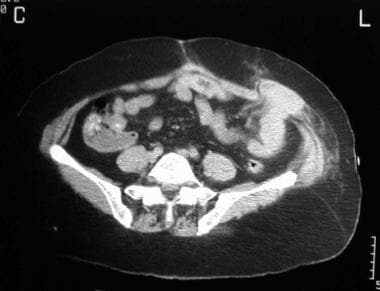 CT scan of a 64-year-old woman with vague abdominal pain of 2 days' duration. Physical examination revealed a tender palpable mass in the left lower quadrant. CT scan reveals an incarcerated ventral hernia.
Large bowel obstruction is most often caused by malignancy or volvulus.
---
Did this answer your question?
Additional feedback? (Optional)
Thank you for your feedback!