Answer
The evaluation of elderly patients presenting with abdominal pain poses a difficult challenge for the emergency physician. It will become an increasingly common problem because the elderly population in the United States is growing rapidly. The definition of elderly varies among authors, but for the purpose of this subject, age 60 years is a reasonable starting point.
Studies published in the 1980s and 1990s demonstrated that, among elderly patients presenting to the ED with abdominal pain, at least 50% were hospitalized and 30-40% eventually had surgery for the underlying condition. These studies also showed that approximately 40% of these patients were misdiagnosed, contributing to an overall mortality rate of approximately 10%. The image below illustrates an inflammatory mass of an elderly woman with a ruptured appendix.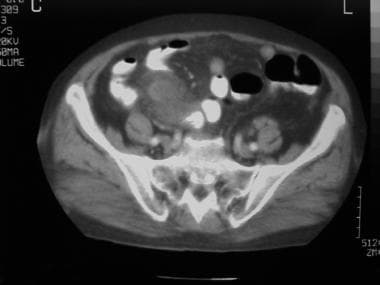 Inflammatory mass in the right lower quadrant of an 84-year-old woman with mild abdominal pain of 2 days' duration. A ruptured appendix was found at surgery.
---
Did this answer your question?
Additional feedback? (Optional)
Thank you for your feedback!