Answer
An adequate history should include a disease-specific history and physical examination, particularly focused on the onset, duration, and degree of the symptoms and risk factors. [14] In addition to characterizing any pain, bleeding, protrusion, or change in bowel habits, special attention should be placed on the patient's coagulation history and immune status.
Rectal bleeding is the most common presenting symptom. The blood is usually bright red and may drip, squirt into the toilet bowl, or appear as streaks on the toilet paper. The physician should inquire about the quantity, color, and timing of any rectal bleeding. Darker blood or blood mixed with stool should raise suspicion of a more proximal cause of bleeding.
A patient with a thrombosed external hemorrhoid may present with complaints of an acutely painful mass at the rectum (see the image below). Pain truly caused by hemorrhoids usually arises only with acute thrombus formation. This pain peaks at 48-72 hours and begins to decline by the fourth day as the thrombus organizes. New-onset anal pain in the absence of a thrombosed hemorrhoid should prompt investigation for an alternate cause, such as an intersphincteric abscess or anal fissure. As many as 20% of patients with hemorrhoids will have concomitant anal fissures.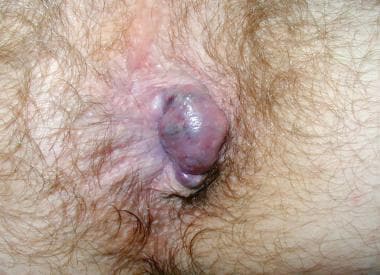 Hemorrhoids. Thrombosed hemorrhoid. This hemorrhoid was treated by incision and removal of a clot.
The presence, timing, and reducibility of prolapse, when present, will help classify the grade of internal hemorrhoids and guide the therapeutic approach (see Grading of Internal Hemorrhoids). Grade I internal hemorrhoids are usually asymptomatic but, at times, may cause minimal bleeding. Grades II, III, or IV internal hemorrhoids usually present with painless bleeding but also may present with complaints of a dull aching pain, pruritus, or other symptoms due to prolapse.
---
Did this answer your question?
Additional feedback? (Optional)
Thank you for your feedback!