Answer
Hemorrhoids are not varicosities; they are clusters of vascular tissue (eg, arterioles, venules, arteriolar-venular connections), smooth muscle (eg, Treitz muscle), and connective tissue lined by the normal epithelium of the anal canal. Hemorrhoids are present in utero and persist through normal adult life. Evidence indicates that hemorrhoidal bleeding is arterial and not venous. This evidence is supported by the bright red color and arterial pH of the blood.
Hemorrhoids are classified by their anatomic origin within the anal canal and by their position relative to the dentate line; thus, they are categorized into internal and external hemorrhoids (see the following image).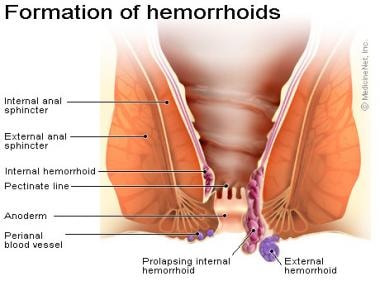 Hemorrhoids. Anatomy of external hemorrhoid. Image courtesy of MedicineNet, Inc.
External hemorrhoids develop from ectoderm and are covered by squamous epithelium, whereas internal hemorrhoids are derived from embryonic endoderm and lined with the columnar epithelium of anal mucosa. Similarly, external hemorrhoids are innervated by cutaneous nerves that supply the perianal area. These nerves include the pudendal nerve and the sacral plexus. Internal hemorrhoids are not supplied by somatic sensory nerves and therefore cannot cause pain. At the level of the dentate line, internal hemorrhoids are anchored to the underlying muscle by the mucosal suspensory ligament.
Hemorrhoidal venous cushions are a normal part of the human anorectum and arise from subepithelial connective tissue within the anal canal. Internal hemorrhoids have three main cushions, which are situated in the left lateral, right posterior (most common), and right anterior areas of the anal canal. However, this combination is found in only 19% of patients; hemorrhoids can be found at any position within the rectum. Minor tufts can be found between the major cushions.
Present in utero, these cushions surround and support distal anastomoses between the superior rectal arteries and the superior, middle, and inferior rectal veins. They also contain a subepithelial smooth muscle layer, contributing to the bulk of the cushions. Normal hemorrhoidal tissue accounts for approximately 15-20% of resting anal pressure and provides important sensory information, enabling the differentiation between solid, liquid, and gas.
External hemorrhoidal veins are found circumferentially under the anoderm; they can cause trouble anywhere around the circumference of the anus.
Venous drainage of hemorrhoidal tissue mirrors embryologic origin. Internal hemorrhoids drain through the superior rectal vein into the portal system. External hemorrhoids drain through the inferior rectal vein into the inferior vena cava. Rich anastomoses exist between these two and the middle rectal vein, connecting the portal and systemic circulations.
Mixed hemorrhoids are confluent internal and external hemorrhoids.
---
Did this answer your question?
Additional feedback? (Optional)
Thank you for your feedback!