Answer
Computed tomography (CT) scanning is adjunctive to and may replace ultrasonography. Spiral or helical CT improves imaging of the biliary tree. CT cholangiography uses a contrast agent that is taken up by the hepatocytes and secreted into the biliary system. This enhances the ability to visualize radiolucent stones and increases detection of other biliary pathology.
Dilated intrahepatic (see the image below)and extrahepatic ducts and inflammation of the biliary tree are imaged. Gallstones are poorly visualized with traditional CT scan.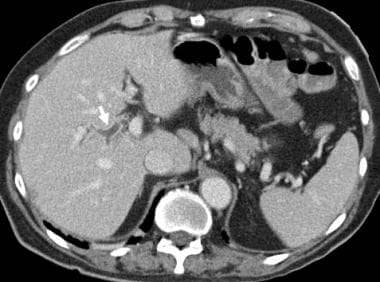 CT scan of dilated intrahepatic bile ducts. Image courtesy of David Schwartz, MD, New York University Hospital.
---
Did this answer your question?
Additional feedback? (Optional)
Thank you for your feedback!